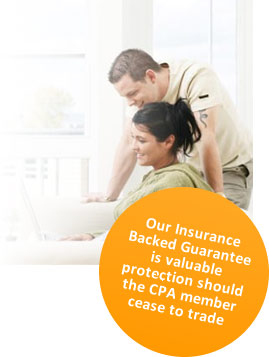 Home Improvement Insurance Backed Guarantees
When having home improvement works carried out on your property, it is essential to make sure an insurance policy is in place and given to you, by way of business, as part of the overall sale to protect you from unforeseeable circumstances.
An Insurance Backed Guarantee (IBG) is valuable protection in the unlikely event of an installation company or contractor ceasing to trade. Only use a company or contractor who will provide you with a home improvement guarantee – with the paperwork to prove it. Otherwise, you could believe you are covered when you are not.
Insurance providers for home improvement companies
The Consumer Protection Association (CPA) provides its members with Insurance Backed Guarantees for every project. This protects you in the unlikely event that a tradesperson or company ceases to trade due to liquidation or bankruptcy. We also provide deposit protection for home improvement projects.
If, due to the liquidation, receivership, administration or winding up of the business due to bankruptcy, state retirement or death of the principal(s), the company no longer exists – you will be covered by the IBG.
However, the guarantee given to the installing company by the CPA is valid the whole time they are trading and so any defects should be corrected by them.
Guarantee Home Improvement Insurance for up to 10 years
Depending on the work undertaken the IBG is available for a period up to 10 years and is underwritten by an authorised insurer.
We have been in business for over twenty years and are a leading authority on protecting you and your property with home improvement insurance.
Important Notice:
You MUST apply for your Insurance Backed Guarantee, otherwise, you will not be covered. Once work has been completed ask the CPA member for an Insurance Backed Guarantee form. You must apply for this within 28 days of the contract being completed to your entire satisfaction and once you have paid the CPA member. When we have processed your application, you will be sent an Insurance Certificate. Without this certificate you are not insured, therefore, if you do not receive it within 28 days, contact us.
Important Information:
The Consumer Protection Association will not provide you with a personal recommendation as to whether Insurance Backed Guarantee is suitable for your needs.
The Consumer Protection Association is an appointed representative of CPA Consumer Guard Ltd who are authorised and regulated by the Financial Conduct Authority.