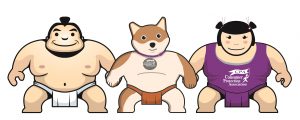 Is it a bird? Is it a plane? No, it's the consumos.
Sumo Yuki, his wife Akiko and their new dog are on a mission to help raise standards across the industry and reinforce the message that as a member of the CPA, installers will win more new business due to consumers trusting the brand.
Jeremy Brett, director at the CPA comments: "As the family grows we needed a collective name for our mascots. We settled on the consumos and hope that installers will love them as much as we do.
"We are also asking installers to name the latest addition to the family, so get in touch with your suggestions."
Yuki and Akiko were launched as part of the CPA's popular Together Stronger campaign, which brought a 25% increase in CPA membership over nine months and a 400% increase in enquiries.
A new member for the CPA family
Now, with Akita joining too, the consumos are looking to recruit even more new members to the CPA family.
Jeremy comments: "There is a serious message behind the campaign that we are doing everything we can to raise standards in the industry and make it easier for both consumers and installers.
"By becoming a CPA member, you'll be supported by an organisation that has been helping home improvement companies win new business and grow for more than twenty-three years.
"Call us today to find out why our members are winning more business in the home improvement market; and how you can too."
The CPA is a leading provider of Insurance Backed Guarantees and Deposit Protection and is widely recognised by consumers as a trusted resource for finding accredited and vetted installers.
For more information, please call 01462 850064 or email us today.