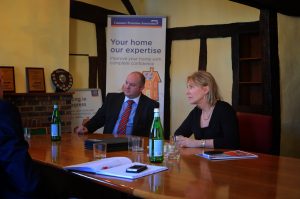 West-Midlands based Pedmore Windows and Conservatories is celebrating 28 years in business; and 20 years as a member of the Consumer Protection Association.
To mark the event, the CPA's National Sales Manager Tim White visited Pedmore's Stourbridge headquarters to present Founder and Managing Director Karl Girling with an engraved plaque.
Pedmore supplies and installs a full range of PVCu and aluminium windows and doors, composite doors, conservatory roofs and roofline products for homes in its local area.
Karl Girling says being a member of the CPA has helped Pedmore consistently grow over the last two decades.
He comments: 'As a member of the CPA our customers are able to see we are committed to offering a quality service, backed by an excellent independent Insurance Backed Guarantee (IBG) provider. This support structure has enabled us to grow over the years, together with the sales and marketing material we receive from the CPA.'
Pedmore Windows and the CPA
On the support he received from the CPA throughout the year, Karl comments: 'Every quarter we receive lots of marketing literature and a colour A4 graph chart, with independent customer feedback on our company's installations. We display this in our showroom and it is an excellent tool for helping us to close sales.
'From our experience with the CPA, we can't see why other companies looking to offer Insurance Backed Guarantees would not choose them as the number one provider.'
Jeremy Brett, Director at the CPA, comments: 'Congratulations to Pedmore Windows and Conservatories for a successful 28 years in business. A lot of our members are long-established companies; and we make sure we support them as best we can, as the market and industry evolves over time.'
The CPA is the UK's leading provider of Insurance Backed Guarantees and Deposit Protection, and is recognised by consumers as one of the most trusted resources for finding accredited and vetted installers.